We can help you get all your social media marketing (SMM) services in one place—from account setup and creation to daily monitoring and maintenance.
Social media marketing (SMM) is much more than just getting a "like."  It enables your customers to interact with your company on a daily basis, which can help:
Set up your social media accounts—Get all your accounts created for you, with custom profile images and graphics included.
Maintain your social presence—Short on time? We can post to, monitor and update your social media accounts for you.
Improve your online reviews—Reviews make or break a person's decision to do business with you—are you paying attention to yours?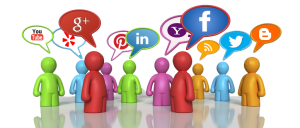 Why Does My Business Need Social Media Marketing?
Encourage repeat business—Studies show consumers are more likely to do business with companies they follow on social media.
Respond to harmful criticism—People talk about your business online—are you answering their questions, concerns and criticisms?
Multiply your reach—Share your blog posts, e-books, and other content with your loyal followers and watch it spread like wildfire.